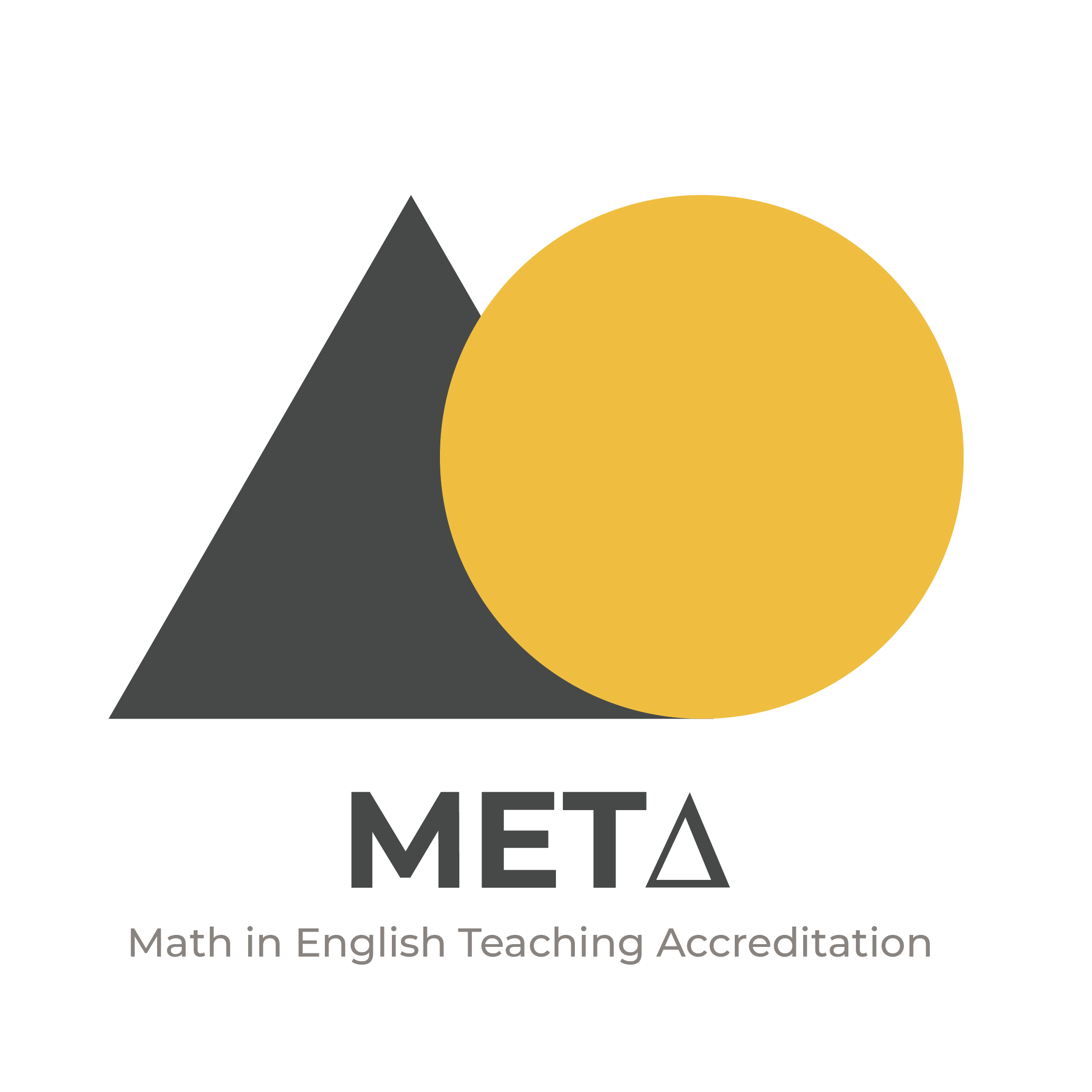 Math in English Teaching Accreditation (META) is an introductory course in teaching Math to English-speaking students for candidates with little or no previous Math teaching experience as well as those with experience but little previous training. As the first qualification of its kind, META offers the work-study model in which the candidates get to actually work as Assistant Teacher to directly apply the knowledge and techniques that they learn from the program's modules into real classroom situations. This approach intensifies and shortens the amount of time each candidate needs to prepare before pursuing a career in Math teaching.
COURSE OVERVIEW
The program runs once a year during summer from June to August for 14 weeks at Everest training centers in Ho Chi Minh City. It covers a wide range of professional trainings and hands-on activities so that, upon successful completion, the candidates are fully qualified and ready to teach Math in any English-speaking environment.
Key teaching skills and qualities that they gain includes:
Understanding various international Math curricula and systems
Learning the principles of effective Math teaching
Practicing teaching techniques in real classroom context
Building authoritative classroom presence
As META compresses the 18-month-process to become a Math teacher into 14 weeks, it certainly requires commitment at the highest level but, at the same time, will provide an amazing sense of achievement and a concrete foundation for candidates who are passionate about a career in Math teaching.
COURSE CURRICULUM
The 5 Learning Modules to be covered in META are:
Understanding Math curricula, systems and teaching methodologies
Creating engaging student-centered lesson plans
Effectively managing students and their learning goals
Applying theories of language presentation
Presenting knowledge and concepts clearly across grade levels
Course Prerequisites:
A Bachelors Degree with strong academic performance
A certification of English proficiency (IELTS 7.0 or equivalent) if you are not a native English speaker
WHY META AT E2
Everest Education is the leading institution in Vietnam in teaching Math to students using international curricula. Recognizing the need for a qualification of Math teaching, our team of experts condensed years of experience in serving thousands of students from various international schools such as ISHCMC, BIS, SSIS, AIS, VAS, TAS, etc. and knowledge in teaching American, British and Singaporean Math programs to create META. Its content is based largely on teaching techniques, methodologies, and products that have been proven to be effective not only by our teachers but many students and their families. The fact that its Math program has grown for 23% within the past 12 months demonstrates how E2 continues to become a trustworthy partner to learners and international schools around Vietnam when it comes to Math study.
As E2 is incredibly proud of its Math program and META is the essence of everything that it has to offer, the content of META is constantly solidified and improved. The teachers that we train will not only be extremely skillful and knowledgable, but also possess growth mindset and a great sense of innovation. We aim at nothing less than the highest level of excellence in our teacher training program as we understand how impactful just one good teacher can be. We are determined to raise the standard for a "good" Math teacher to a new height and inspired to support as many candidates as possible to achieve such standard.
COURSE TRAINERS
SHANNON RYBACKI
Shannon is a US-trained Math teacher with over 13 years of experience in education, first as a teacher and then in administration and management. She has taught primary and middle schools both in the US and in Vietnam. As the COO of E2, Shannon oversees the day-to-day operations of the whole company, especially the recruitment process and training and development for E2 staff. She spends much of her free time doing community work with children, including acting as an advisor for several charities and supporting adopting families from the USA.
SABRINA DEVITT
Sabrina is a CELTA (Certificate in Teaching English to Speakers of Other Languages) and TKTYL (Teaching Knowledge Test to Young Learners) – certified teacher. As a Senior Academic Manager at E2, Sabrina oversees core program quality and initiatives, as well as professional development of teachers and assistant teachers. Sabrina has been involved in education even before she arrived in Vietnam, and outside of work, she also volunteers in a variety of activities. So it was natural she ended up working at E2, where we want students to learn, grow and build a lifelong love of learning. "I'm honored and delighted to be part of their journey!".
DAVID EDGAR
David is from the UK and started his teaching career in Vietnam 5 years ago. He's a CELTA-certified teacher and has been working as a senior teacher, teacher trainer and academic manager. As an Academic Manager at E2, David recruits teachers, provides upfront and on-going development programs, as well as mentors new teaching staff. David is so passionate about teaching that he asked to keep teaching, either E2 students or E2 staff.
EMMANUEL ALBERTUS
Emmanuel is a Qualified Teacher certified by both French and British Departments of Education. He has over 10 years of experience in teaching internationally across grade levels from middle school to college students. As a Professional Development Coordinator, Emmanuel has developed and delivered high-quality trainings and workshops to E2 teaching staff. Beside teaching, Emmanuel is passionate about singing and Asian cultures, which is why he decided to leave France and start his new life in Vietnam about a year ago.
DUONG NGUYEN
Graduated from Yonsei University, Duong has been working at E2 as a Senior Math Teacher and Curriculum Development Coordinator. Over his time at E2, Duong has taught across grade levels from primary to high school, with specialization in IB (International Baccalaureate) and Singapore Math methodologies. Duong is responsible for providing upfront trainings for all new Math teachers, as well as on-going professional development programs for Math teachers. Outside of work, Duong is incredibly passionate about music, he even did a demo lesson on the relationship between Math and Music during his first interview with E2.
COURSE SCHEDULE

META will be an intensive course. The tentative schedule would be from 1:00 PM to 8:00 PM on weekdays and daytime on Saturday, from June 3rd to August 31st, 2019.
COURSE FEE AND PAYMENT
1. Course Fee: VND 10,000,000/ 14 weeks
2. Full payment must be settled at least 01 week before the start date.
3. Payment methods
Cash or credit card at any branch of Everest Education in Ho Chi Minh City
Bank transfer
SCHOLARSHIP AND FINANCIAL AID
1. Full Scholarships: We offer 06 full scholarships to outstanding candidates during the selection process, which include:
Full tuition fee of VND 10,000,000
Monthly stipend of VND 2,500,000 (~ VND 7,500,000/ 14 week course)
2. Monthly Stipend: We also offer a monthly stipend of VND 2,500,000 to any candidates that get accepted to the program.
3. Contract Signing Bonus: Any successful graduates from the program can receive a bonus of VND 2,500,000 upon signing the first contract with E2.
The Application for META Course 2019 has been closed.