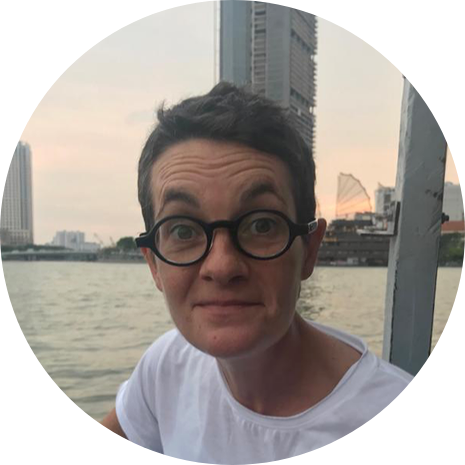 Senior Academic Manager from 2019 and became an Academic Advisor since October 2020
---
Sadie grew up in the South of England and have lived in Vietnam for around 15 years. She joined E2 actually from 2017 to work on a project and decided to be an Everestian because of the culture here as a Senior Academic Manager and has actively involved in many projects of E2. She decided to switch to be an Academic Advisor after 1 year of contribution in Operation side to focus more on building curriculum and professional development for the Academic Team.

Share your background: Where did you grow up? Where did you go to university and what did you study?
I grew up in the South of England, went to university in Manchester to study history, then did a post-graduate diploma in acting in London. I moved back to Manchester and joined a theatre company there for a few years before doing a teacher training course and moving to Vietnam. I have lived in Vietnam for around 15 years.

What is your favorite and least favorite Vietnamese food?
My favorite used to be Bun Thit Nuong but then I became a vegetarian, so now I guess it's Bun Chay!
My least favorite is someone else eating Bun Thit Nuong because I am so jealous! I also really don't like nuoc mam.

What brought you to Vietnam / back to Vietnam?
The weather, the wonderful people, the food, the beaches and the work opportunities.

What made you decide to be a teacher?
Firstly, it was a way to travel. But after a year or so, I realized that I was very passionate about education and wanted to make this my career.

What was the biggest factor that made you choose E2?
I previously worked on a project in 2017 with E2 and found it so rewarding. I loved the people I met and what I knew about the culture so I was keen to be more of a permanent fixture at E2!

Can you describe E2's working environment in 3 words?
Fun, innovative, fast-paced.

What is the most helpful thing you've learned to improve your teaching at E2?
Clear is kind, unclear is unkind.

What is your most memorable NON-teaching moment at E2? PG version, please.
The whole off-site trip in Da Lat – it was so much fun and great for team-building.

What are you most looking forward to or optimistic about when it comes to your own future at E2 or E2's future in general?

Helping E2 to grow and teachers at E2 to grow professionally.

Bonus Question: If you had to be stuck on a desert island with 1 member of E2 staff (teaching or operations team) who would it be? Why?

Shannon – though I'm not sure how many survival skills she has!